Car Battery Service near Me

Does your car need a jolt to get back out on the roads of Somerset, New Bedford, and Fall River? If so, you're probably looking for car battery service near me. For that, you can stop by the service center here at Stateline Chrysler Jeep Dodge Ram.
To help ensure that you're more knowledgeable behind the wheel, our team is sharing some of our car battery know-how with you. In this guide, you'll learn what exactly a car battery does and how our technicians handle car battery service.
---
It's Time for A New Battery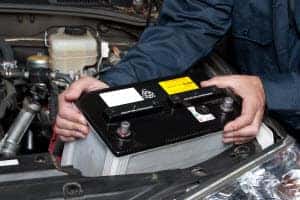 If you're wondering how to tell whether you need a new battery, there are some signs you can look out for. First and foremost, pay attention to your vehicle when you start the ignition. If your Jeep or Ram is taking longer to start up, or the cranking of the engine is sluggish, it may mean your battery is beginning to die.
Additionally, one of your vehicle's convenient dashboard lights may be triggered if the system senses a problem with the battery itself or the charging system. Weak battery power may even cause the check engine light to illuminate. Here are a few other warning signs for you to look for:
A battery that's more than three years old
Low battery fluid level
Swollen or bloated battery case
Rotten egg smell around the battery
It's a good idea to have your vehicle inspected by a professional if you notice any of these signs. A mechanic can determine whether your battery should be replaced.
---
Car Battery Function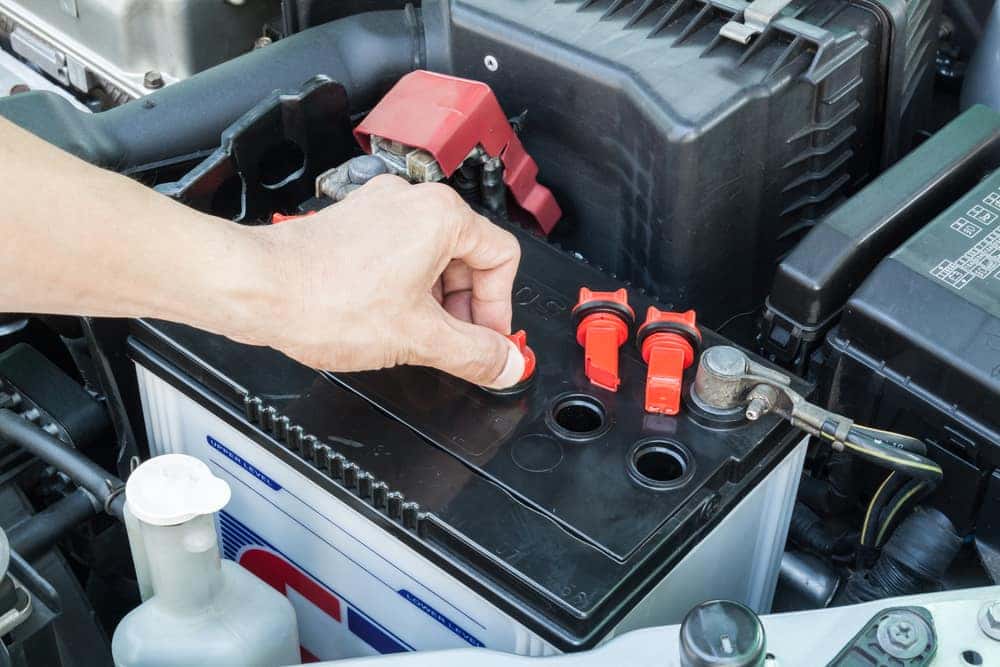 Understanding how your car battery works plays an important role in determining if you're in need of service.
The battery converts chemical energy into electrical energy, through a chemical reaction. This reaction occurs when sulfuric acid reacts with the active material inside the battery. The electric energy it creates provides the shock that your engine needs to get started. On top of that, it also provides a continuous electrical current so that your Chrysler or Dodge can keep running.
Most vehicles come standard with a 12-volt car battery. They are considered fully charged at 12.6 volts or higher. A dead battery will give off a reading of 11.89 volts or less. Do you think your battery charge is low? One of our technicians would be happy to perform a battery voltage test to find out.
---
Battery Service at Our Dealership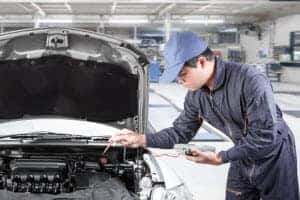 When you bring your Dodge or Jeep vehicle in for car battery service, we'll begin by checking its voltage and the overall condition. Then we'll examine the other components of your vehicle to ensure that everything is in working order.
If we find any corrosion or an issue with your vehicle's charging system, we'll perform the necessary maintenance to get your Jeep or Ram back to performing at its best. If we find that your battery doesn't have the charge to properly power your vehicle, we'll suggest a replacement. Then one of our technicians will simply swap out your old battery with a fresh one.
Best of all, if you have the experience to handle battery repairs, you can take advantage of our parts department. We have genuine OEM parts including batteries and alternators. To make it even easier, you can order the parts you need online!
---
Find Car Battery Service near Me
Here at Stateline Chrysler Jeep Dodge Ram, we have a dependable service team that will get your battery service done right. You'll be back out on the streets of Somerset, New Bedford, and Fall River in no time.
If your car is in need of a battery repair, schedule service today!