Spin Classes near Fall River

Not all exercise is created equal. Anybody who's first spent a tedious hour lifting boring weights on a crusty old machine and then attended a dynamic spin class set to exhilarating music knows this—there's no comparison. That's why we've created this guide to some of the best spin classes around Fall River…
Boutique Fitness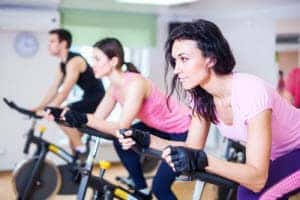 Boutique Fitness's motto is that becoming an even better you starts here. We have faith in that motto, and so should you. Between their personalized, goal-oriented approach and the individualized attention of the trainers and classes, this is the type of place where you can really transform your life. Check out their Instagram to see people living their best lives.
General Fitness
General Fitness offers not one…not two…not three…but at least four different cycling classes. Take a look!
Sweat on Demand Spin: Alternating between max and recovery intervals.
Cycle Challenge: You ready for increased lower body stamina and strength?
Vicious Cycle: Boost your endurance, promote energy, and burn calories.
Spinning: Speed training, cardio blasts, isolations, tensions climbs, and more.
Facebook is a great place to connect with our cyclists who have taken—or who will take—these classes!
WOW! Work Out World
Over at WOW! Work Out World, their three guiding principles are that they're inviting, professional, and motivating. In addition to their spinning classes, they offer traditional equipment, person training, Group-X classes, Titanium Training, and even amenities like babysitting, tanning, and Wi-Fi. In other words, it certainly seems like they're living up to their guiding principles. Learn more via their Twitter.
Check Out the Rest of Our Blog to Learn About Other Cool MA Activities
A life full of spin classes sounds like a good life and, for that matter, so does a life full of sports bars, boutique shops, craft breweries, sandwich shops, fishing stores, and all of the other awesome establishments that you'll read about on our blog. We've fallen in love with the Fall River area, and we've done our best to provide you with all of the information that you'll need to fall in love with it, too.